I read and follow fashion blogs, magazines, and websites, so I can stay on top of the trends. Fashion Week happened in New York a couple of weeks ago for Spring/Summer 2010.
All everyone is talking about is spring/summer 2010, but it is just starting to get cold where I live so I thought I would share trends you can use this fall and winter.
Statement jewelry is still in this season and it's getting bigger. (Hint: Bigger jewelry is still going to be hot in spring/summer 2010)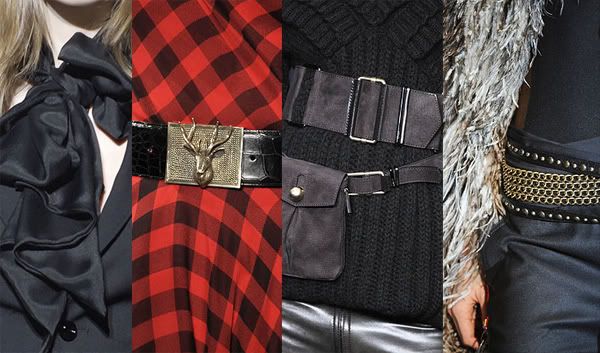 Belts are an accessory that should make a statement
Bags, Bags, Bags, you can't ever go wrong with a cool bag.
Don't forget the guys in you life they need cool accessories too.
What trends are you going to add to your fall wardrobe this year?
Want to read more about Fall 2009 trends, check out these posts The Colors of Fall, Fall Accessory Trends, and Fall 2009 All about Plaid.